Quiana is a sixteen year old adolescent who was identified as a student on the autistic spectrum at the age of 4. She is now in 11th grade at James Hillhouse High School, a comprehensive high school in New Haven, CT.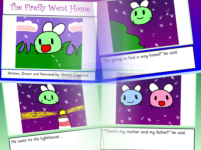 From an early age, Quiana started using art as a form of expressive communication. Initially, she created models with clay to share her thoughts and feelings. As years passed, she used pencils and pens to create and draw characters and to write short stories that included these characters. Presently, Quiana uses the computer to draw and to write; utilizing social media, such as YouTube and Facebook, as well as a variety of software to write, illustrate, and develop story lines with her created characters.
When introduced to the software program Clicker, Quiana taught herself how to use the program. She is presently using this resource to write, illustrate, and even narrate books! Technology skills and Clicker have provided a fantastic tool to help this young lady create additional characters with on-going storylines and/or experiences. Clicker has enabled Quiana to expand her vocabulary, using more adventurous words and being supported in her writing as needed. She is motivated and excited when using Clicker, and it is anticipated that she will make greater strides in the use and development of her artistic abilities. It has also proven beneficial in helping her to share and allow others to see her capabilities, interests, and potentials. We are hoping that this will continue to be an enjoyable and lucrative endeavor for Quiana.
UPDATE - 'senior turns art into excellence'
Quiana recently won both the 'Writing & Illustrating Literature For Children' award and an 'Excellence in Art' award for the books she has been creating and illustrating with Clicker.
Click here to read the article in full.