The Clicker Apps are a key part of an intensive literacy intervention programme we are using to support two pupils in our school who have Cerebral Palsy. Now in Year 2, Rachel and Johnny have been using Clicker since they joined us. Over the past year they have each made 2 sub levels of progress in their writing, which is a great achievement for them.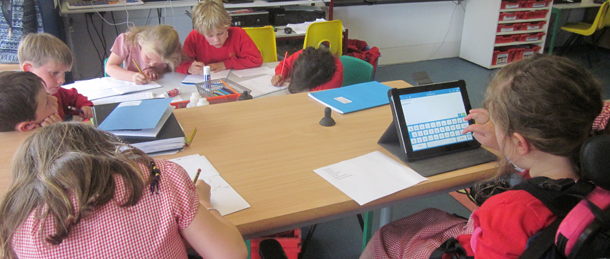 Rachel and Johnny find writing with a pencil and paper an extremely difficult process. Using a computer certainly helps, but this requires shifting focus between the screen, the mouse and keyboard, which they find a bit tricky and quite tiring. Having all these tools in one place via an iPad is therefore a really significant step forward.
"The Clicker Apps offer our learners so much flexibility, and you can really target the needs of each pupil that you work with."
The Clicker product that they are using on a daily basis is Clicker Docs – they really love it. Any lessons where the class are sitting down to write, Rachel and Johnny are using Clicker Docs on their iPads. The portability factor is key here – even if the lesson is taken to another part of the school or even outside, the writing support provided by Clicker Docs can go with them! From an inclusion point of view, it's also really important that they can work alongside their peers rather than having to move to a computer station to access the support they need.
What's great about Clicker Docs is that not only does it help to develop the children's literacy skills, but also their confidence, because they are able to write with a degree of independence. Rachel and Johnny work with a number of different Teaching Assistants, and all have found the apps very easy to just pick up and use. We have to make quite specific resources to meet the children's learning needs, so it's vital that we have a product that delivers this degree of flexibility and ease-of-use.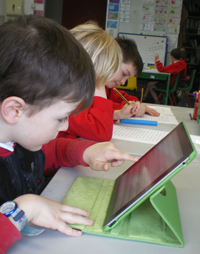 Another Clicker App that I would recommend is Clicker Books. We have used this as part of the children's annual review meeting. The meetings need to bring together not only contributions from the parents and professionals, but also the child's own voice. By giving the children access to Clicker Books ahead of the meeting they were able to create a book with their own photos and text, and could even record their own voice. During the meeting itself, they shared their book with everyone present via an interactive whiteboard. This was such an achievement for them and lovely for both the pupils and their parents. It really set the tone for the rest of the meeting.
Clicker Books is such a powerful tool when used in this way, and creates such a positive experience for the families involved, that I feel it's worth buying just for this purpose! I do see it having much wider uses though; we have just bought a set of class iPads and I can see a lot of potential for outdoor learning. To be able to just go outside, take photos and record your thoughts, then come back into the classroom and add the words is a very exciting prospect.
The Clicker Apps offer our learners so much flexibility, and you can really target the needs of each pupil that you work with. When the children move up to the junior school in September, they will have access to Clicker there too, which will really support the transition process. I am confident that they will continue to thrive and progress.