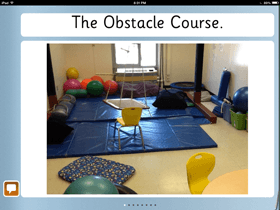 I am a speech therapist in an inclusion K-8 Boston Public school. Many of the students I work with have significant difficulties with reading and writing. I introduced Clicker Books to my students during their SPOT (Speech and Occupational Therapy) sessions. The students created an obstacle course and then used Clicker Books to create a book depicting each step of the course.
Even though my students have significant issues with reading, writing, and formulating sentences, they were able to create this book with minimal assistance. They were so proud of what they had created and were eager to show all their classmates.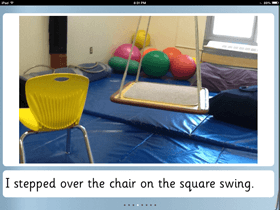 One of my students has significant difficulties speaking, as well as reading and writing. He has apraxia of speech and is very difficult to understand. The entire school community was studying the Taino culture. This student needed to create a project about the Taino, but all the options involved a significant amount of speaking, reading, and writing. Using Clicker Books, he was able to create a project of which he was truly proud. This student used an augmentative communication app to interview a student from each classroom about what they had learned while studying the Taino. He then used the word banks to create a book that clearly depicted all the learning that was happening at the school. When his project was done, the pride on this student's face was priceless. He had created a high quality project and something that he was eager to share with everyone.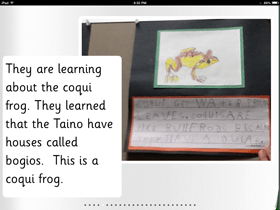 The Clicker Apps are a wonderful support for the students I work with. They provide an excellent way for them to show what they know. The speech support and word banks allow my students with significant difficulties to access the curriculum and to create work of which they can be proud. I would definitely recommend the Clicker Apps!